Who are your favorite King Of The Hill characters?
Last night on Adult Swim was the last of the new un-aired episodes. I don't get it. After 13 Seasons, FOX killed King Of The Hill for what? The Cleveland show

...it's just like Family Guy, random, sensless jokes that ramble on.
FOX it was a bad decision.


Geodome

Lieutenant





Posts

: 231


Join date

: 2009-03-24


Age

: 41


Location

: Cajun Country



FOX has been Seth McFarlainized to death. Too bad quality animation is a thing of the past.
One of my favorite characters is missing from this list. Elroy "Lucky" Kleinschmidt
(voiced by Tom Petty) — Lucky, Luanne's itinerant, but generally benign redneck husband, and the father of Luanne's child. He lives on the remainder of the $53,000 "settlement monies" he received after "slipping on pee-pee at Costco" (which he refers to as "mah pee-pee money"). At one point Lucky's fortune dwindled down to nine thousand dollars but regained another $53,000 when an ambulance chasing lawyer paid off Lucky to avoid a lawsuit.

Luke

Lieutenant





Posts

: 343


Join date

: 2009-11-19


Age

: 34


Location

: Scottsdale, AZ



Barely 15 years ago, animated TV series were conceived for and mostly watched by young viewers. (At least, this was the theory -- clearly, Looney Tunes appealed to all ages.) Then came
The Simpsons
.
Numerous series since
The Simpsons
, follow its model, inviting kids to watch along with their parents, as is the case with Fox's
Futurama
. Shows, like Comedy Central's
South Park
or Fox's
Family Guy
and
American Dad
, overtly target adult viewers, using combinations of broad gags and subtle humor to make political points or social observations.
While
King of the Hill
, did not include especially "adult" references to sexuality, language or violence, it did feature more mature storylines and complex character arcs, including father-son conflicts, marital problems, racism, and assorted dilemmas facing today's U.S. working class. Will live in trying times, and now more than ever a quality show of this stature is needed.
I'm casting my votes to the father-son-duo, Hank Hill and son Bobby.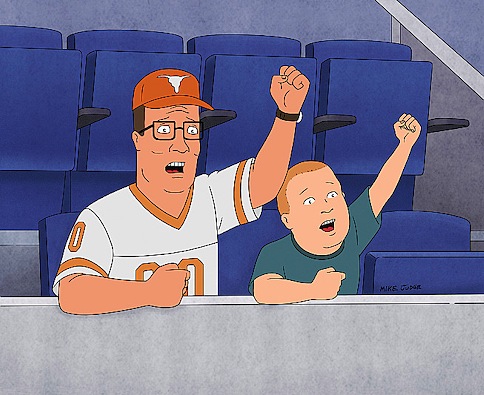 BillyBaldwin

Lieutenant





Posts

: 167


Join date

: 2009-11-13


Age

: 46


Location

: Morganton, NC



That's some King Of The Hill love fest you have going here.
I'm glad to see it gone. Far too preachy and middle America for me.

Seth Mcfarlaine owns FOX on Sunday and that's a good thing.

Levi

Private First Class





Posts

: 36


Join date

: 2009-05-21



Lighten up Levi. It's a sweet show, Shug.
I'll have me some John Redcorn, anytime.


dieslgrl

Lance Corporal





Posts

: 52


Join date

: 2009-09-27


Location

: Norfolk, VA



KAhn iz da man!


Zeke

Lieutenant





Posts

: 125


Join date

: 2009-09-01



A show about crazy Texans couldn't last forever. TGFAS!
Thank God for Adult Swim.

BeachComber

Lieutenant





Posts

: 112


Join date

: 2010-05-22



I'm not one to sit down and watch cartoons, but my eldest boy got me to be a fan of this show.
The characters are multidimensional and the stories are well written. Too bad it's gone from the FOX Sunday night line-up.

Webmaster

Lieutenant





Posts

: 242


Join date

: 2009-03-13


Age

: 51


Location

: Richmond, VA



BeachComber wrote:A show about crazy Texans couldn't last forever.
Sir, I'm a Texan and I take offense to your remark. King Of The Hill stands for all that's right about this country.
God Bless America and God Bless King Of The Hill.

Austin

Lieutenant





Posts

: 278


Join date

: 2009-03-17


Age

: 30


Location

: Austin, TX





Similar topics
---
Permissions in this forum:
You
cannot
reply to topics in this forum