It's down to the Final 2 on NBC's "The Celebrity Apprentice", Holly Robinson Pete vs. Brett Michaels. The show was taped months ago. Sunday's airing will be live. Don't know if Michaels will be on. It's amazing that he's alive. And what's even more amazing is that he had his bandanna on all the time he was in the critical care unit.
Now that he's on the mend, I can say this about the Poison frontman without feeling any remorse. His doctor's said they didn't know what caused his brain hemorrhage, but I have a theory: Perhaps it was the bandanna
Michaels
ties tightly to hold his wig in place. The pressure of that constriction, the skull crushing tightness of that bandanna set in place to keep his wig from flying off, well… it's no wonder.
Be warned Axl Rose. You could be next…

Webmaster

Lieutenant





Posts

: 242


Join date

: 2009-03-13


Age

: 51


Location

: Richmond, VA



Actually, it probably isn't the bandanna that will get Axl. Instead, it will be the combination of hair plugs he installed in the front of his hairline, coupled with the extensions he had braided into those plugs. The way you can tell that this hair is fake is that nobody with a full head of hair would style it that way.
Even if he had just been at Sandals Jamaica, there's no way a millionaire rocker would choose this awful hair style.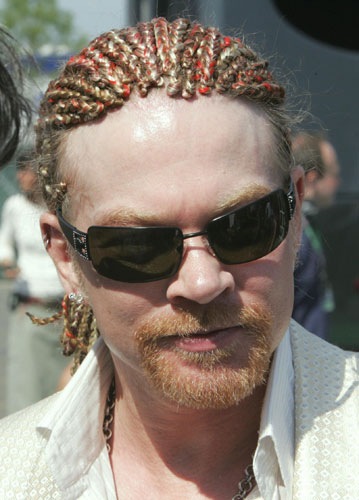 Luke

Lieutenant





Posts

: 343


Join date

: 2009-11-19


Age

: 33


Location

: Scottsdale, AZ



Holy frijoles! What's that red stuff in his hair.


SlimJim

Lieutenant





Posts

: 322


Join date

: 2009-09-10


Location

: Knoxville,TN



Bret Michaels
just suffered another health set-back. He experienced a small "warning stroke" and after being hospitalized, doctors found a hole in his heart,
People
reports.
Michaels' rep says the singer was complaining about "numbness on the left side of his body, predominately his face and hands," according to a report from
TMZ
. Doctors say that his condition is "operable and treatable" and that this new occurrence is not believed to be related to his brain hemorrhage last month.
Michaels had begun treatment in outpatient care, the
Associated Press
confirmed, adding that Michaels' publicist, Joann Mignano, gave no other details about his condition to the news outlet in her email message. Michaels' rep told TMZ that Michaels is in "good spirits, great medical hands and is positive and hopeful that everything is going to be OK. He is up, walking, talking, continuing his daily rehab and very happy to be alive but he has made it clear he is sick and tired of being in the hospital and is ready to rock again."
And he still intends to make it to the "Celebrity Apprentice" finale on Sunday, according to
HollywoodLife.com
.

Webmaster

Lieutenant





Posts

: 242


Join date

: 2009-03-13


Age

: 51


Location

: Richmond, VA



Ease up on Michaels. Give the man some respect.

Sanderson

Lieutenant





Posts

: 297


Join date

: 2009-03-21



Seriously this rocker has lived life on the edge. It was bound to catch up with him and cause ALL the serious health problems he's been having lately.

Luke

Lieutenant





Posts

: 343


Join date

: 2009-11-19


Age

: 33


Location

: Scottsdale, AZ




---
Permissions in this forum:
You
cannot
reply to topics in this forum