Do earrings compliment a bald head?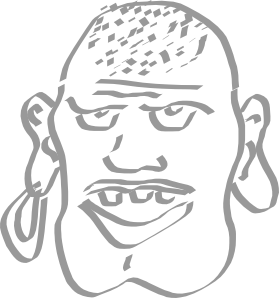 Dear Bald Man Ahead Of Me In Line
--------------------------------------------------------------------------------
A colleague of mine just showed me this....
http://pointlessbanter.net/2007/09/2...of-me-in-line/
I shop at Wegmans. I'm wondering if this is about me.
Dear Bald Man Ahead of Me in Line,
Dude, we need to talk. Before I make a few points I have to ask you some questions so please be patient.
1) Are you a pirate? Do you rape and pillage, sailing the seas looking for booty? I don't think you are because you don't have an eye patch, peg leg, or a hook for a hand. Nor is their any visible signs that you have had a parrot on your shoulder.
2) Are you a wrestler? Do you fake fight for a living? I kind of doubt it because you aren't that big and I didn't see any needles hanging from your *** from where you inject steroids.
3) Are you a biker? Do you ride a hog? Judging by the crappy *** retail store shirt you were wearing and the worn out loafers I have to doubt the idea of you owning a hog.
4) Are you Ving Rhames? You aren't black and I don't remember you playing Marsellus Wallace, so I don't think you are him.
Well if you answered no to all of these questions then let me tell you something.
REMOVE THE HOOP EARRINGS FROM YOUR EAR.
You can't shave your head and have hoop earrings unless you are the following: a pirate, a wrestler, a biker, or Ving Rhames. For anyone else it is totally unacceptable, in fact I am offended that you were wearing them. If I didn't have a sub sandwich and an Arizona Ice Tea in my hand I would have gone up and yanked them out of your ear. But since that required me to bend down and place my awesome roast beef sub from Wegmans on the ground I decided against it.
Also for future reference, just because they have a checkout stand in the sub shop in the grocery store doesn't mean you can bring 20 items for them to ring you out. When everyone else is in line behind you just with a sub and a drink and you are ringing out an entire basket of stuff it is a **** move. You know how you can tell it is a **** move?
Remember when you went to put your basket down there was no place to put it? You had a look of utter befuddlement because it isn't a normal register, it is the sub shop register for people buying subs not your personal checkout because you were too ****ing lazy to buy your groceries after you purchased your sub or brought your bags with you to buy your sub. They don't have a place for you to put the basket because it isn't socially accepted. Have some respect for your fellow man and let them buy their tasty subs so they can get back to work. When you pull this **** during the lunchtime rush it makes me want to grab that bag of apples in your hand and individually shove each and everyone one of them up your *** using that bottle of Tabasco sauce as lube.
Make these changes in your life Bald Man Ahead of Me in Line and we will all be better of for it.
Thanks, Kevin
I don't know anyone called Kevin, but if he ever approached me at Wegman's and identified himslef, he'd get a free knuckle sandwich.

Brandon

Lieutenant





Posts

: 144


Join date

: 2009-03-07


Age

: 42


Location

: Binghamton, NY



Dude, this Kevin is full of rage. I mean, it is a rough economy, many are hurting, and he is able to purchase a delicious roast beef sandwich at Wegmans.

He should thank his lucky stars for his good fortune, and not be concerned with the purchases of the bald hoop earringed gentleman in front of him.

Kevin needs to chill out and calm the **** down.

That is precisely the reason I won't shop at Wegmans or anywhere else that is considered upscale. It attracts the worst sort of uppity ****heads. These folks need to get a grip. If you are in such a goddamn hurry, pack your lunch and eat at your desk, but don't get your panties in a wad and then seethe and go back to work and blog about your petty grievance when you should be working.

THIS is what you were in SUCH a hurry to get back to your desk for? Kevin, you are a vile human being and I hope you get fired for blogging when you should be working.

Darby

Lance Corporal





Posts

: 59


Join date

: 2009-05-09



Seems this Kevin has some serious hate for bald headed men. Either that or he dislikes gypsies and pirates. If I ever encountered a Kevin, being the seafaring earring wearing gent that I am, I'd tell him in not such a nice way to drop that roast beef sandwich of his and spew his venom elsewere.

MightyA

Lieutenant





Posts

: 130


Join date

: 2009-03-09


Age

: 45


Location

: Newport Beach, CA




---
Permissions in this forum:
You
cannot
reply to topics in this forum